Lined Up: Game #2 vs. Red Wings
by Craig Medaglia @craigmedaglia / Ottawa Senators
Here's everything we know about the Sens line-up as they get set to host the Detroit Red Wings tonight at 7 p.m.
We'll start with a piece of info that the coach confirmed yesterday: Alex Formenton will enter the line-up tonight for his first NHL game.
Tweet from @Senators: The coach confirms that Alex Formenton will make his NHL debut tomorrow against the Red Wings. #Sens
Formenton just turned 18 years old back on September 13th and will become the youngest player in Senators franchise history to play in an NHL game.
"I saw that stat the other day," said Formenton after this morning's skate. "It's just another neat thing that will make my first NHL game a little more special."
Formenton also spoke about his whirlwind last 3+ months that saw him drafted in the second round by the Senators in June to making his NHL debut in October.
"I didn't see any of this coming but obviously it's something that I wanted to have happen," Formenton recalled. "I work so hard to get these kinds of opportunities and to be here now is pretty crazy."
To make room for Formenton, Logan Brown, who made his NHL debut on Thursday, will come out of the line-up.
Both Erik Karlsson and Johnny Oduya have been ruled out for tonight's game which means that the recently recalled Ben Harpur will step in on the blueline. Harpur appeared in 15 games for the Sens last season, which included 6 in the regular season and 9 in the playoffs, registering a pair of assists (both in the post-season).
Tweet from @Senators: The coach confirms that Erik Karlsson won't play tonight against Detroit. Ben Harpur will draw into the line-up in place of Johnny Oduya.
How do these updates affect the forward lines and defence pairings? Great question. Here's a look at our projected line-up for tonight...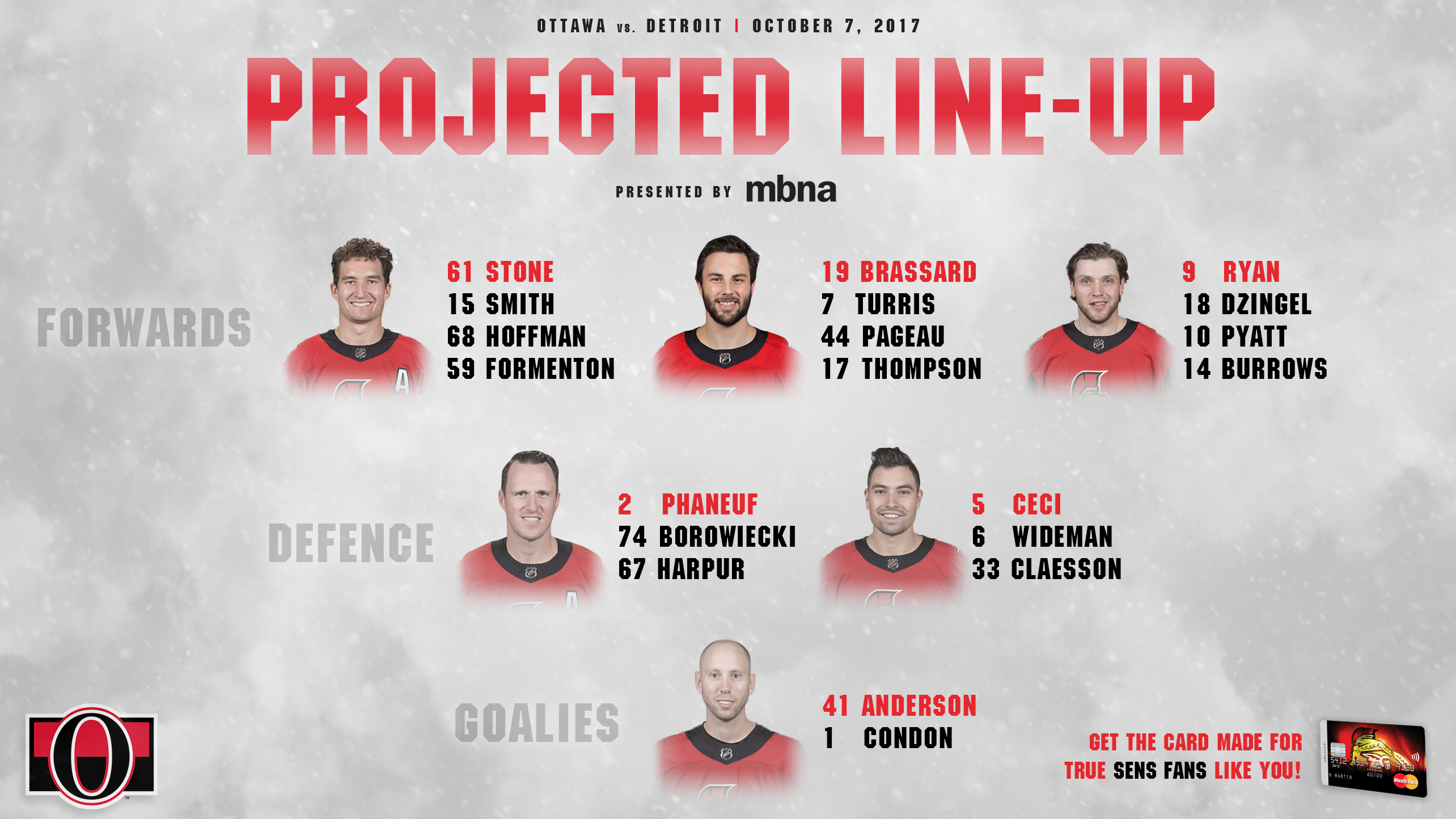 In Goal
Craig Anderson will make his second start of the season tonight. Anderson stopped 24 of the 28 shots he faced in the home opener and unfortunately ran into a red hot Alex Ovechkin in the process. Mike Condon will back him up tonight.
Tweet from @Senators: The coach also confirms that Craig Anderson will start in goal tomorrow against Detroit. pic.twitter.com/fx9EV7wM19
View More