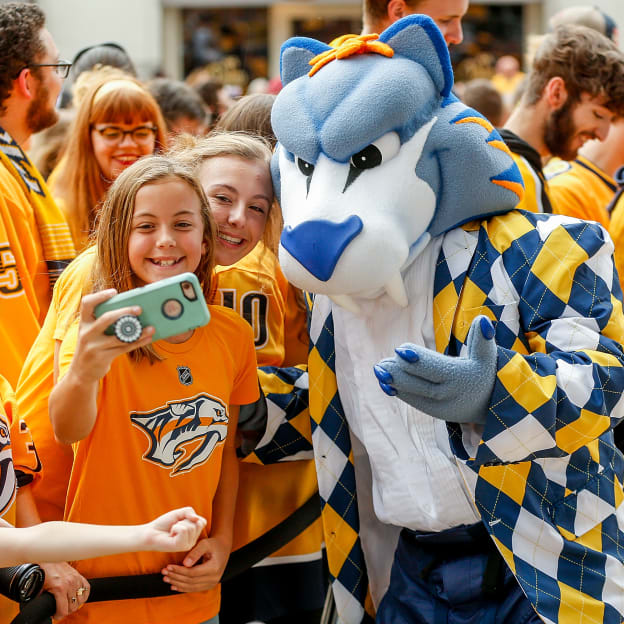 About GNASH
In 1971, it was believed that no archaeological find would ever match their recent discovery. Then in 1994, while digging the foundations for the new Nashville Arena (now called Bridgestone Arena), an even greater discovery was made. Deep beneath the surface, down where the earth is cold and dark, the drills and jackhammers unearthed a beast, a baby saber-tooth tiger, completely frozen in a huge block of ice. The site had obviously been undisturbed for years.
Rather than subject the creature to an existence of endless scientific research and study living in a cage, they looked for a place where he could feel at home. The cat would need a place that felt like a cave, where he would hear the familiar roar of his own kind. And, above all else, he needed ice!
The crew placed the frozen cub in the center of the arena to thaw. When they returned the next morning, the ice had melted and the creature was gone. They searched for days, but never found him. They feared that he was gone forever, but they were wrong. The little beast had gone in search of other tigers in this strange new world.
After several years, he had given up hope of ever finding any of his kind again. Then on Oct. 10, 1998, he heard the familiar roar of other saber-tooth tigers. What he found were Predators fans cheering their team on Opening Night. He had found a home.
Now all grown up, the huge beast lives in the dark corners of Bridgestone Arena, and only comes out of hiding when he hears the familiar Predators roar that reminds him of home.