Devils Through the Decades: 1995 Quest for the Cup (part 1)
Devils superfan Jerri Rettig reflects on the team's first Stanley Cup. Presented by Choose New Jersey
by Jerri Rettig / Special to NewJerseyDevils.com
There is nothing like playoff hockey - NOTHING! Plain and simple, the Stanley Cup is the most coveted trophy in sports and the most difficult to attain. Some players (great ones) never get the chance to hoist it and a good majority of loyal and diehard fans never get the opportunity to experience it.
As a fan who has been privileged to have had the luxury (several times), I feel compelled to discuss the criticality of playoff game day superstitions - we all do it in some way, shape or form however, a good number of you may not be as blatant with them and/or open to sharing as I am (could very possibly be a mistake on my end).
In 1994 and in the first round against Buffalo, we lost our first home game while I was wearing Devils attire. As a result, I switched it up for game 2. My new outfit was black stirrup pants, black boots, black tank top and a leopard print blouse (don't judge - it was 26 years ago and I believed it was stylish). When we won, I felt that this was the lucky outfit and my playoff uniform for the remainder of that series as well as the following two. I would take it off after each game, spray it with perfume and hang it on my balcony for proper airing. You know as well as I do, that there was no way to wash or clean the outfit and maintain the luck.
In addition to the outfit, I developed/adopted a "power play pose" (where I sat on my leg throughout the PP). I still utilize this and it has now extended to all power plays - regular season as well as playoffs.
During the 1995 playoffs, I unveiled and expanded a set of good luck superstitions, but the outfit was retired given that it most certainly lost its juju at the conclusion of our '94 run. My rituals and props now included a "good luck Devils toothbrush" only used on game days, my rally towel and pompom (provided as we entered the arena for the first home game). This was the only towel I accepted and carried throughout the whole run. The placement and usage of the towel was also crucial.
The towel was laid out on the back of the chair in front of me with my hands on it at all times as I leaned forward to watch play. During power plays and PK's, it was squeezed tightly between my hands (while sitting on my leg of course) and then placed back on the chair at the conclusion of the power play. A quick shoutout and thank you to all the patrons who sat in front of me and leaned forward to allow for proper towel placement. During OT's, the towel was, again, scrunched between my fists and held to my mouth to keep me from screaming. My towel/pompom were the first things I put in my bag when I traveled for a couple of road games.
While on the road, I had to enlist the cooperation of rival fans in order to execute the towel placement. Today, this towel resides in my 1995 memory box complete with beer, wine and mustard stains absorbed throughout the playoffs. The towel took a beating, but where would (might) we have been without it?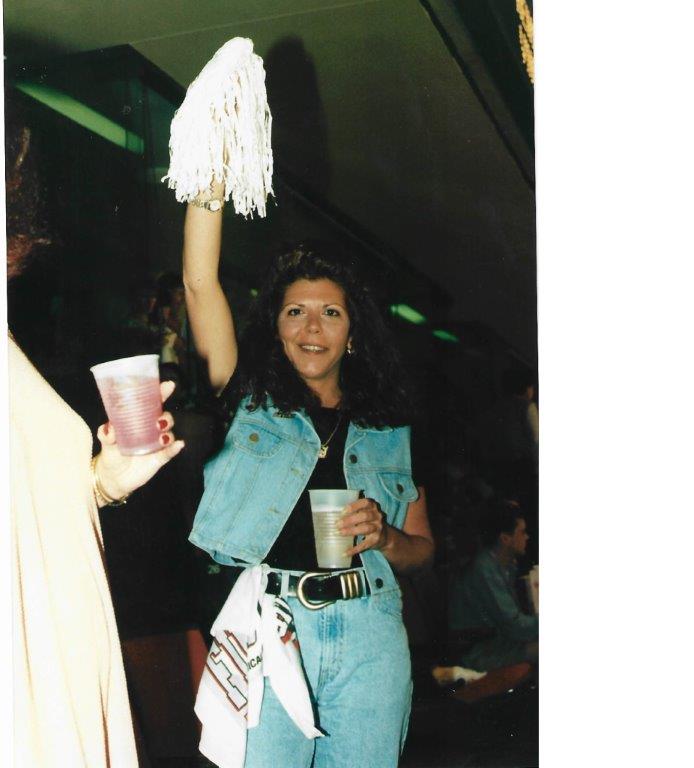 Detroit Finals Game 4 - With "Good Luck Towel" and Pompom
A playoff run, be it round 1 or the finals is often chock full of OT's and game 7's which is a wicked rollercoaster ride for the fan (buckle up) - pure jubilation if you win and soul crushing when you lose - a virtual cornucopia of emotion. There is a reason why they call it "sudden death."
I would be remiss to start writing about our '95 run without acknowledging 1994 (as horrifically as it ended). The Devils went three rounds, played two game 7's and twelve OT periods to include a quadruple OT against Buffalo (buckle up and lock yourself in). When we lost that game in the wee hours of the morning, it was utter and complete disappointment followed by unbridled exhilaration when we won game 7 moving us forward to the semi-finals against Boston. We took that series in six games which also included two OT's and propelled us to the conference finals against our arch-nemesis…The Rangers.
The battle on the Hudson was both, epic and agonizing with three double OT's and a game 7 - not for the faint of heart. With an opportunity to close it out at home in game 6 (and the melodrama of Messier's prediction "we will win tonight"), we walked into the building with high hopes, excitement and confidence. Entering the 3rd period and up by one goal, we could taste the win. The 3-2 loss that night was disheartening and set the stage for game 7…buckle up for the ride!
Game 7 was played at MSG and I was there. I had attended all seven games of the series and had hoped not to be back in that building after game 5. My seats were behind Brodeur's goal so fortunately and unfortunately, I had a bird's eye view of the two most important goals of the game.
With a minute left in the game and the Rangers up by one, everyone in the arena was on their feet and counting down when the unthinkable happened (if you were a Rangers a fan). With 7.7 seconds left, Zelepukin tied the game!! I was elated, screaming, shrieking, whooping and hollering while all of the fans around me fell back in their seats deflated…buckle up, hold on tight and don't let go - game 7 OT. Between the 3rd period and first OT, I went to the ladies' room and while I was waiting on line I heard a couple of guys walk by and one said to the other "Oh no, it's that girl in the leopard shirt again" - my uniform.
OT in and of itself during the playoffs is a form of torture that any diehard can appreciate, but a game 7 OT is agony. Every shot, every save, every giveaway is gut-wrenching and/or heart stopping.
The first OT ended and we were heading for our third double OT of the series bringing with it the heightened level of stress and anxiety that goes along with a win-or-go-home scenario. Less than five minutes in, Stephane Matteau scored the goal that sent us home for the summer. I was devastated and heartbroken, didn't wait for the handshake (historically, one of my favorite things to watch and a great hockey tradition). I couldn't get out of the building fast enough! Sudden death. Having been at the game, I was fortunate enough that night to have escaped the now infamous rant "Matteau, Matteau, Matteau" however, it couldn't be avoided in the days and weeks to follow and I was haunted by it for months to come (still am).
Despite the outcome in 1994, it validated the Devils as bona fide contender - a deep and talented team. Unbeknownst to us at the time, it was the beginning of an "era of greatness" that started with our first Cup in 1995.
Part 2 of this story will be posted in a few days and I will be sharing my memories of that magical season however, in my last article I had asked to hear some of yours which I will share now;
Tomoki Tajima - He was living in Japan and became a (very) long-distance fan in 1995. Watching Scott Stevens hoist the cup via satellite TV, he was moved and impressed. At the time, Tomoki was studying for his college entrance exams, was motivated by the team and felt it gave him the momentum to study even harder - he passed and from that moment he became a fan. Tomoki has been living in New Jersey for the past three years (relocated by his company) and visits The Rock several times a year.
Barry Greif - Barry and his son (Stu) became Devils fans from the inception (1982). Stu accompanied Barry to game 3 of the finals in 1995 and when Barry asked him to go to game 4, he said that he couldn't as he had a game of his own to play (men's league). Barry replied "Stu, you have been a Devils fan since you were 10. There is a very good chance they could win the cup that night. How often can you see your team win a Championship in person?" Stu thought for a moment and said, "I'll be there."
That day (game 4) they attended a family event and at 4:00 Barry kissed his cousin goodbye and told her he was leaving because he "had a date with destiny."
Late in the game, after the score was 5-2 and the chants changed from "We Want The Cup" to "We've Got The Cup" Stu knew he made the right decision.
Andreas Michaelides recalls the dominant play of Stephane Richer.
Vincent Villa had scheduled a trip with his family and in-laws to Niagara Falls. He fondly remembers watching the Philly series in a small hotel room and thoroughly enjoyed the "big goal by Claude Lemieux and the rock-solid goal tending of Marty Brodeur."
Felony Van Horn (the Philly fan) - After the Devils game one win against the Flyers and as a Devils fan in Philly, Felony called into the radio station where the broadcaster was a "homer" and talking smack against the Devils. She laid into him with great satisfaction. In addition, she also has great memories of watching the Devils celebration as it was carried on public access TV and aired in Philly.
As mentioned, my (personal) 1995 story will come out in a few days and my January article will be a tribute to the 2000 Cup as we celebrate the 20-year anniversary. I would love to hear and share any special memories or stories that you may have of our 2000 run for that article. Please share with me below.
View More