Devils Through the Decades: Second Heaven (Part 1)
Longtime Devils fan Jerri Rettig looks back on the Devils 2000 Stanley Cup Championship
by Jerri Rettig / Special to NewJerseyDevils.com
After winning the Cup in 1995 (barring the blip in 95-96), the Devils proved that they belonged among the elite, finishing first in 96-97, 97-98, 98-99 and second in 99-2000. The fans (and you could put me at the top of the list) were hungry for another trip to the Finals and all of the hoopla that goes along with it (hoopla will be better defined as we progress). Unfortunately, we fell short and were knocked out in the early rounds through those seasons leading up to 1999-2000.
During the course of that season, our core defense from '95 continued their brilliance at the blue line coupled with the dazzling goaltending of Martin Brodeur which was reflected by the fact that 14 of our 16 wins in our run to the Cup were decided by one goal.
Lou Lamoriello made a number of timely moves throughout the season that poised us for this ensuing ride to our second championship; two rookies were instrumental in our success - Brian Rafalski and Scott Gomez (who won the Calder trophy for Rookie of the Year), the addition of both, Nemchinov and Malakhov, acquiring Mogilny at the trade deadline and bringing back our '95 Conn Smythe winner and fan favorite Claude Lemieux. Last but not least (and maybe most importantly), Lou replaced Robbie Ftorek and named Larry Robinson coach with eight games left in the regular season.
Video: 2000 CUP REUNION | The Rookies
Along with all of the changes on the ice, I felt as if I needed to give Lou a helping hand by stepping it up on my end, giving us the extra oomph to make a real run. It was time to add a few more game-changing superstitions to my arsenal. I, of course, maintained all of those which I previously mentioned (in my 1995 article) - my power play pose, game day toothbrush, pom pom and the always critically important rally towel draped perfectly on the seat in front of me. You don't mess with success. My ultimately winning additions included new tailgating rituals (one facet of hoopla) and the installation of a Devils toilet seat in my guest bathroom prior to the start of the first series.
| | |
| --- | --- |
| | |
We had a roster brimming with talent and there is not one name that comes to mind who didn't contribute with a clutch goal, play, pass or block. We had four complete lines - all of which performed at the highest level but unquestionably, there were two that dominated (in different ways) - John Madden, Sergei Brylin, Jay Pandolfo and the infamous "A" Line.
Throughout the 1999-2000 season and contrary to other years, we were the epitome of a triple threat - 1) unprecedented defense backstopped by the best goaltender of all-time (43 wins that season); 2) Special Teams - we ranked #1 in power play goals and 3) we were an offensive leader…YES, I said offense! We were #1 in the Eastern Conference and #2 across the League in scoring.
Throughout the playoffs, our Devils played with pure determination and character overcoming adversity and injuries. Brylin was injured in round 1 (FLA), Madden and Nemchinov against the Flyers (Nemchinov taking 40 stiches), Arnott played through knee and wrist injuries, Sykora being knocked out in game 6 against Dallas and I'm sure there were several other "undisclosed" injuries - none of which stopped them. They played hard and played to win. After all, these were the playoffs and all eyes were on the prize.
The last game of the season we played Florida (our probable first round matchup). We won the game in OT. That set the stage for this legendary run to the cup. We were ready - let the games begin…
We started at home against Florida and although we swept the series, 3 of the 4 games were only decided by one goal which carried the same intensity and excitement one would expect in a longer series to include winning games 2 and 3 by a score of 2-1 and both with the winning goals scored in the last three minutes of regulation. Elation!
Video: 2000 CUP REUNION | The A Line
After our game 1 victory at home, I went to the Winner's Club to celebrate and happened to be standing next to Mrs. Niedermayer. Rob Niedermayer was playing for Florida and, of course, Scott, for us. She was dressed sleekly in a black leather jacket and color neutral (not to exhibit any favoritism). I was in close proximity or just maybe I was eavesdropping (as we must at times) when I heard someone ask her who she was rooting for. With as much political correctness as she could muster under the circumstances, she responded "I'm cheering for both of my boys" then she hesitated and continued "But Scotty already has a ring." You can read between the lines on that. At the end of our run in 2000, the score was 2 rings - 0 between the Niedermayer brothers. Mrs. Niedermayer was probably equally torn in 2003 when the brothers met again in the Final - Scott with the Devils and Rob with Anaheim - tally at that point went to 3 - 0 rings, however, several years later (2007) the brothers won a championship together while both playing for Anaheim. Just for the record, ring total was 4-1 which also happened to be the score of the game winner when we swept Florida in game 4 of the 2000 Quarter Final, but I digress…
After we won game 3 and were up 3-0, I made the eleventh-hour decision to fly to Florida and see the Devs close out the series (with well-placed optimism). My father lived there at the time, thought he might enjoy it and knew that I had to be there. It was a last-minute booking as well as the weekend of both Easter and Passover so needless to say I paid through the nose only to get to the airport the next morning and find that I did not have an assigned seat and was bumped. I (not so diplomatically) caused a "small" ruckus at the gate - maybe the word "small" is a wee underestimation of what ensured but suffice it to say, I ultimately wound up on the plane. I was on my way with all of my good luck paraphernalia in tow.
When we won the game that night, swept them and closed out the series, I had to get a memorable picture to commemorate the occasion. I stood outside the arena in front of the giant panther erected in front. I was holding a Panthers rally towel in one hand and a lighter beneath it (purely as a simulation of course). When my father snapped the photo, a passing fan screamed something at me. I turned my head for a split second and when I looked back, realized that the simulation had graduated to an incident. The distraction had caused the lighter to raise a bit and the towel was in flames. Not what I was aiming for, all's well that ends well.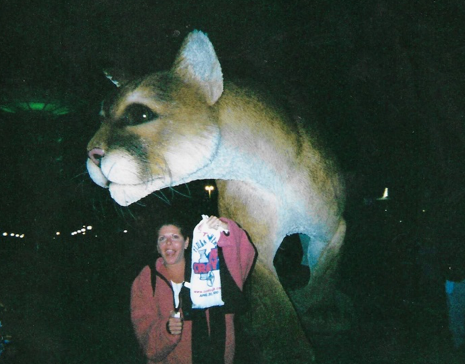 Before the "Incident"
After the triumphant Quarter Finals sweep, the "hoopla quotient" was in full swing. Our tailgates were stepped up with precision and all the pomp and circumstance worthy of a thrill-packed inspiring run. For years, we tailgated in the same spot partnered with other fans who did the same and it became a true collaboration. One group of our neighbors were restauranteurs (lucky for us) who pulled out all the stops to include brunches (eggs benedict, omelets, etc.) for day games and a full-blown surf and turf smorgasbord in the Final complete with key lime pies flown in from Florida. To top it off, every tailgate my mother brought a giant chocolate chip cookie with a unique quote written in icing which was specific to whatever scenario that game presented. There was always a ritualistic and special unveiling of the cookie with all fellow tailgaters mandated to take a piece for good luck.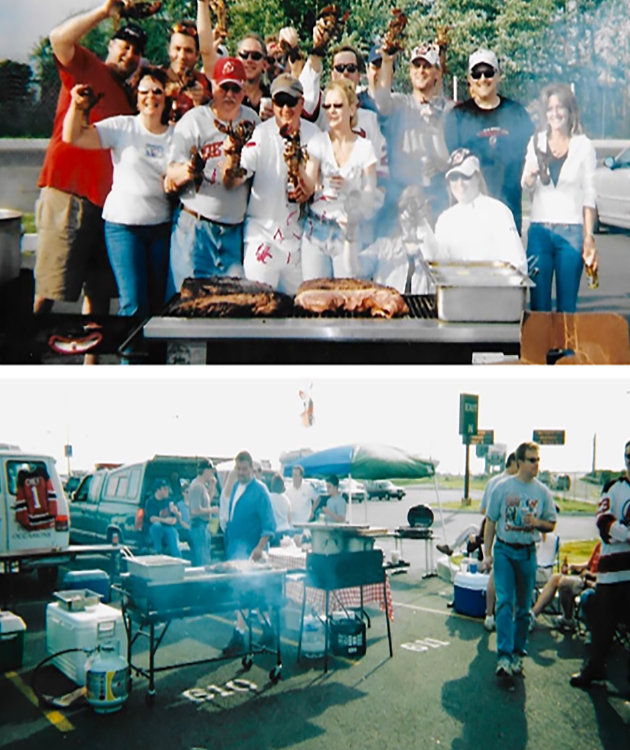 Hoopla in Full Force
During the playoffs, fans need to hate. It fuels the fire. We all choose a villain round by round; it is a right of passage so to speak and often fosters comradery amongst the troops. In 2000, my enemy of choice (starting prior to the Toronto series and throughout the Finals) was a no-brainer: Barry Melrose, the ESPN commentator. I viewed him as a "Devils hater" and resented his ultra-biased take on things round-by-round. I was far from alone in my thinking which became quite evident when Barry took a stroll across the parking lot and through the legion of Devils tailgaters prior to one of the games. He didn't repeat that mistake.
Prior to the start of the semi-finals against Toronto, my newfound foe was anything but impartial, touting the strength and skill we would face in this next round. I am sure that it was predicated on the fact that his cousin (Wendel Clark) played for Toronto.
We took that series in six games to include two shutouts as well as a decisive win in game 3, beating them 5-1.
In the third period of game 6, we were up 3-0 in the third period. As the clock ticked down, the cheers ratcheted up - way up! Everyone in the arena was on their feet with unrestrained joy. Three, two, one: game over! We are halfway there and now it is on to the Conference Finals. Next stop: Philly.
Two of my favorite memories from that Toronto series was the relentless and vigorous physical play of Scott Stevens and the defensive perfection we executed in game 6. We held them to six shots on goal throughout the whole game. When the final buzzer sounded the scoreboard read: SOG 3 - 2 - 1. Just astonishing.
To be continued: SECOND HEAVEN - The 2000 Stanley Cup (Part 2) coming tomorrow. The best is yet to come…
View More