Back by popular demand, the Sharks Foundation is offering the Mystery Puck Subscription for the 2023-24 season! A one-time purchase secures all 2023-24 Mystery Puck designs including an exclusive puck only available to subscribers AND this year's Mystery Ornament! Please note this season's exclusive puck will not be autographed by a player of the subscriber's choice. Pucks will automatically be shipped to subscribers as each design goes on sale to the public.
Mystery Pucks are sold virtually or on the Concourse at designated home games throughout the season. Every puck is signed by a Sharks player and then wrapped so the player's identity remains a mystery. Pucks are $30 each, credit card only ($35 online - includes shipping). Net proceeds from Mystery Pucks sales benefit the Sharks Foundation and its mission to aid underserved youth and families in the community.
2023-24 Mystery Puck Schedule:
October 14: Los Tiburones
November 4: Warriors x Sharks
November 24: Holiday Ornaments
February 17: Lunar New Year
March 23: Celebration of South Asian Culture
PLAYER CARD SERIES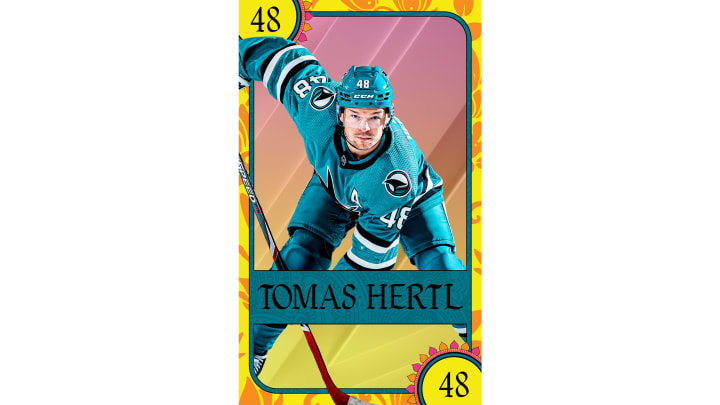 All themes and dates subject to change.
The Player Card Series fundraiser features five sets of limited-edition 3"(W) X 6"(H) cards, each set featuring a Sharks player. Adding to the fun, a select number of cards per set will be autographed by the player himself, and a limited number of other cards might feature a golden ticket that can be redeemed for a bonus item such as an autographed hat, stick, or other Sharks memorabilia! The mystery is, all cards are sealed in envelopes, maintaining the secret of what's inside. Player Cards are sold exclusively on the Concourse at designated home games at the Sharks Foundation Booth outside Section 118 for $10 each (credit card only).
2023-24 Player Card Series Schedule:
October 14: Card #1 – #39 Logan Couture
November 9: Card #2 – #48 Tomas Hertl
January 30: Card #3 –  #72 William Eklund
March 9: Card #4
April 6: Card #5
Click Here For Rules & Regulations