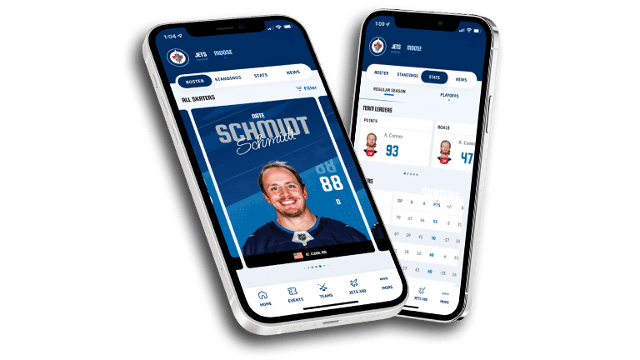 FUELLED BY PASSION
Stay connected to your Winnipeg Jets with 24/7/365 access to news, video, standings, rosters, schedules and more.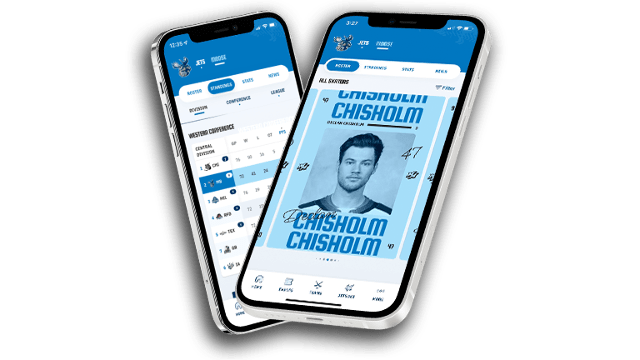 MANITOBA MADE
Keep up-to-date with your Manitoba Moose with the latest news, standings, player stats and more all in one place.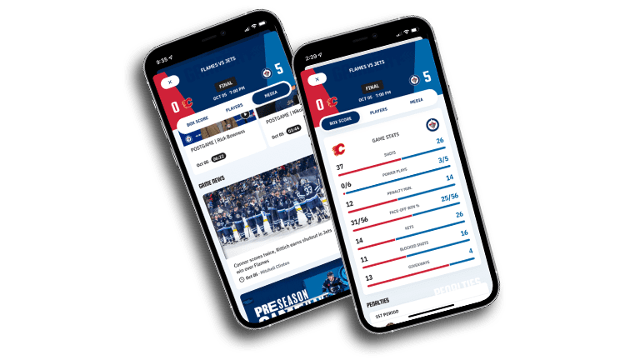 JETS AND MOOSE GAMEDAY
Check out articles, pre-game videos, game recaps, statistics, and real-time information before, during and after every game.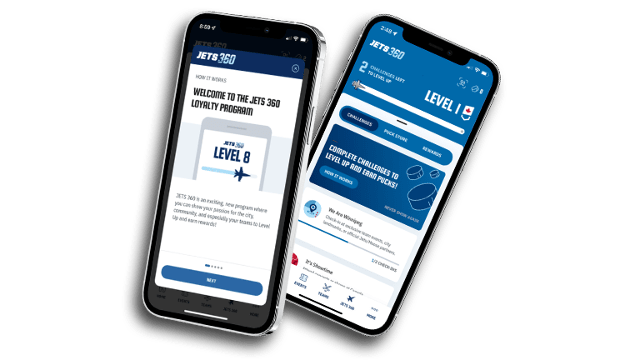 JETS 360
A unique way to participate in exciting challenges to earn rewards plus gain exclusive access to Season Ticket Member loyalty discounts.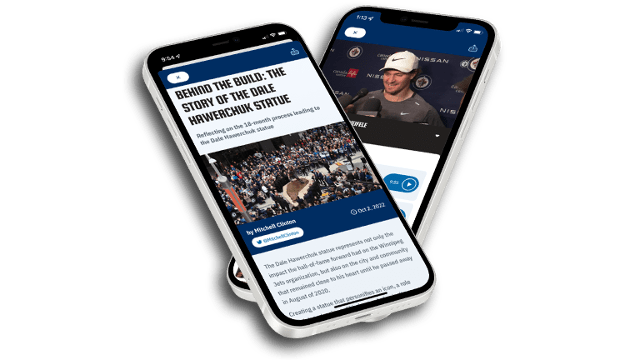 NEWS
Get to know our players outside the rink, receive exclusive team information, breaking news, analysis, roster updates & more.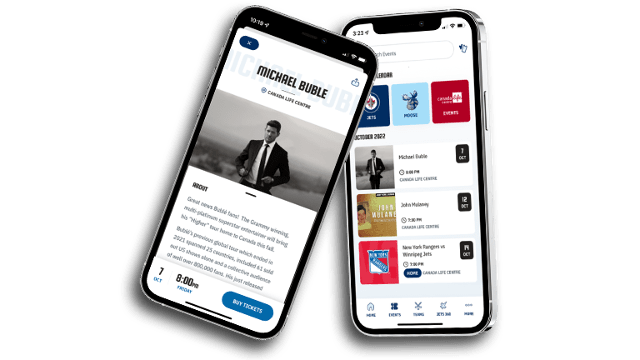 EVENTS
View all upcoming Canada Life Centre and Burton Cummings Theatre events and purchase your tickets directly with the app.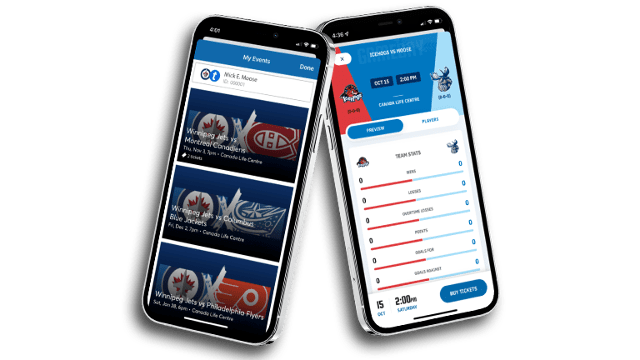 TICKETMASTER INTEGRATION
Easily Access, Manage and Purchase your Ticketmaster tickets directly in the app.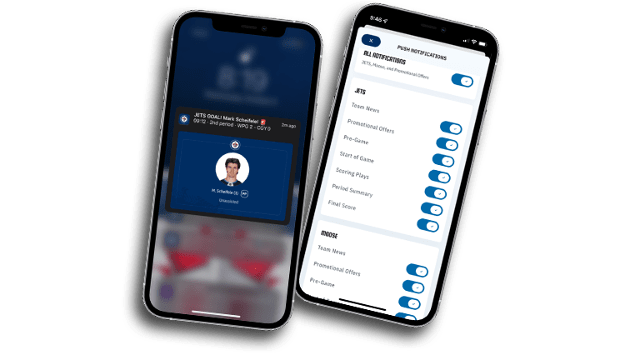 PUSH NOTIFICATIONS
Receive breaking news alerts straight from the source. Set your preferences to receive the alerts you care about most.
What is the Jets app, and why should I use it?

Last season we introduced the Official App of the Jets, Moose, Canada Life Centre and Burton Cummings Theatre! Fuel your passion with a brand-new look and get closer to the action with breaking news, exclusive content, stats, rosters, and real-time game-day details. In addition, you can manage your tickets, access discounts and participate in exclusive contests. Plus, customize your team alert preferences to receive what you care about most.
What is the Jets 360 rewards program?

Jets 360 is a rewards program open to all fans 14 years of age and older. Participate in challenges to level up, earn Pucks, and use those pucks to enter exclusive Jets 360 contests. Learn more.
Do Season Ticket Members and official Share Partners require the app to access their exclusive member discounts?

Yes. By signing up for Jets 360 and linking your Ticketmaster account, the Official Winnipeg Jets app will allow Season Ticket Members and official Share Partners to access all of your exclusive member discounts via your JETS 360 ID (QR Code) from within the app.
Can I manage my tickets using the app for all events at Canada Life Centre and Burton Cummings Theatre?

The mobile app integrates with Ticketmaster so fans can manage their season tickets and single event tickets with the same confidence they would expect using Ticketmaster directly. Fans can use the app to enter events at Canada Life Centre and Burton Cummings Theatre by scanning their digital ticket.

Season Ticket Members will need to link their Ticketmaster account to access their exclusive discounts.

Ticketmaster integration includes a dashboard that can be used to manage season tickets or single event tickets at Canada Life Centre or Burton Cummings Theatre. Fans can also re-list their tickets on the Ticketmaster resale market from within the app.

Before entry to the arena, fans can optionally save their tickets to their Apple Wallet or Google Pay.
What type of content will be available in this app?

Designed to provide updates for Winnipeg Jets and Manitoba Moose fans, the app will deliver fans insights into players, games, and news. Fans can expect:
Exclusive game analysis - pre-game analysis, line-ups, in-game highlights, updates on player statuses, and post-game summaries
Team information - get to know the players for the Winnipeg Jets and stay up-to-date on all news and statistics
Event listings - be the first to know about new concerts and other events coming to Canada Life Centre and Burton Cummings Theatre
Can I manage what push notifications I receive?

Using the Winnipeg Jets app, you can manage a variety of notifications you receive. These include the following for both Jets and Moose: News, Offers and game related notifications such as Pre-Game, Game Start, Period Recaps, Scoring and Final Score. In addition, there will be show announcements, ticketing offers, contests and Jets 360 news.
How can I ensure security?

All transmission of sensitive information such as login credentials is always done over a secure connection using established industry security best practices and workflows.
Will the Jets app store my credit card information?

No, the app will never directly store credit card information.
Can I still use the NHL app?

Yes, you can. The content will still be updated, but the Official Winnipeg Jets app will provide greater functionalities for Jets/Moose fans and events at Canada Life Centre and Burton Cummings Theatre. The app will also be the hub for Season Ticket Members and Share Partners to access their exclusive merchandise, Food and Beverage discounts via their custom JETS 360 ID (QR code) connected to their JETS 360 account.
I want to download the app. Why am I seeing "Your device isn't compatible with this version"?

The current minimum version for Android is 9 and up and for iOS is 15 and up. We want to provide Jets and Moose fans the smoothest experience by using the latest operating systems available to both Android and Apple users. We have tested our features on older operating systems and found them to be slower, not as stable, and offered less security which we felt could create a frustrating user experience. That said we do have our looking into this and are hoping to lower the version specifications to serve our fans with this new experience.
Why does my App look weird?

The App may look odd on your device due to accessibility settings. We do recommend turning off Larger Text and Zoom in the accessibility settings for the best user experience. You can find those settings in your device: Settings > Accessibility.
Report an issue or send feedback for the app to [email protected].