The Chicago Blackhawks continue to grow in our commitments to honor and celebrate Black Hawk's legacy by offering our platforms, making meaningful contributions, collaborating with Native American people, and reimagining ways to support the many Native American people and communities we live amongst and alongside.
As we to look to expand our efforts, we will continue our genuine dialogue with local and national Native American groups and are committed to collaborating with Native American people and communities. It is through these collaborations that we've begun the thoughtful and focused process of implementing more Native American-led initiatives centered on education, contemporary art, athletics and more, and this expanded foundation will continue to grow moving forward.
Part of this work includes working with Native partners in educating our staff, fans and local community on the history of Black Hawk and original peoples of Illinois, as well as on Native American contributions to today's society. We also continue to expand our investments in Native individuals and communities. Through these initiatives, we endeavor to build a community that is informed and respectful of Native American people and their culture. 
We look forward to getting these efforts further underway and hope our fans and partners will join us in continuing this growth and development as we work toward becoming better allies.

WHAT IS A LAND ACKNOWLEDGEMENT? 
A Land Acknowledgement is a formal statement that recognizes the unique and enduring relationship that exists between Indigenous Peoples and their traditional territories. 
WHY DO WE RECOGNIZE THE LAND?
To recognize the land is an expression of gratitude and appreciation to those whose territory you reside on, and a way of honouring the Indigenous people who have been living and working on the land from time immemorial.
It is important to understand the long standing history that has brought you to reside on the land, and to seek to understand your place within that history. Land acknowledgements do not exist in a past tense, or historical context: colonialism is a current ongoing process, and we need to build our mindfulness of our present participation. It is also worth noting that acknowledging the land is Indigenous protocol (Source).
In addition to recognition within our physical and digital spaces, the Chicago Blackhawks intend to open home games, public events and other gatherings by acknowledging the traditional Native American inhabitants of the land moving forward.

Ma ka tai me she kia kiak or Black Hawk of the Sauk (present day Sac & Fox) tribe was an accomplished war leader & dignitary. He committed his life to the preservation and protection of his people, his family, and the land they were connected to.
The Chicago Blackhawks name and logo symbolizes this important and historic person, whose leadership and life continues to inspire generations of Indigenous people, American veterans and our very own Blackhawks community. 
You can learn more about Black Hawk's legacy through the link below.
Wallace "Bud" McLellan (Sac & Fox) has the distinct honor of carrying Black Hawk's name today. Learn more about his story as Thunder Clan leader and veteran of our nation's armed forces.
Black Hawk Helicopter
The Chicago Blackhawks recently worked with an esteemed group of veterans from the Sac & Fox Nation and the United States Army to deliver and install a decommissioned Black Hawk helicopter at the Sac & Fox Veterans Memorial on the tribe's reservation in Stroud, Oklahoma. This was the first donation of its kind from the U.S. Army to a tribal nation.
Learn more about the significance of the donation, the deacade-plus of work that went into acquiring the helicopter and what it means to the Sac & Fox Nation veterans.
"Of This Place" Exhibit
The Burpee Museum in Rockford recently held an exhibition open to the public, "Of This Place", a collaborative effort between the Burpee Museum and Native American artists and educators from the Sac and Fox, Potawatomi, and Ojibwe Nations. This exhibition was curated by Starla Thompson (Forest Band Potawatomi) and generously supported by the Chicago Blackhawks Foundation and BMO.
Blackhawks fans had the opportunity to buy one ticket to the exhibition and get one free with the code "Black Hawk" at the Burpee Museum's ticket counter.
Native American Veterans
As multiple government records show, Native Americans serve in the United States military at a higher rate than any other demographic. The Chicago Blackhawks are proud to recognize our nation's Native American veterans, including many who have been honored on the ice during the national anthem as part of the team's Military Salutes program.
Trickster Cultural Center has been an integral partner since the inception of this program, with many Native American veterans on the ice also featured within Trickster's "Wall of Honor."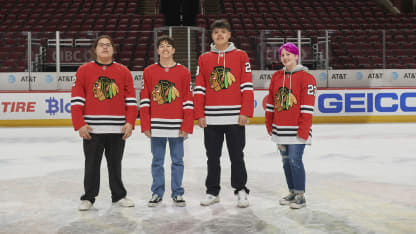 Youth Education Scholarship Program
In collaboration with the Sac & Fox Nation's education department, the Chicago Blackhawks Foundation funds two four-year scholarships for Sac & Fox high school seniors to assist in their continued college or university education alongside additional exposure to career-building opportunities. The Black Hawk and Jim Thorpe Awards will respectively recognize students' outstanding leadership skills and athletic accomplishments. With multiple winners annually, we will build toward a cohort of approximately 20 Sac & Fox youth scholars over five years.
2023 Scholarship Winners:
Black Hawk Leadership Scholarship: Katherine Meeks - From Shawnee, Okla., Katherine was the class president of Family Career and Community Leaders of America (FCCLA) and wants to pursue a career in tribal food distribution or health services.
Jim Thorpe Athletic Scholarship and Black Hawk Leadership Scholarship: Landon Primeaux - From Shawnee, Okla., Landon was part of his varsity golf and basketball teams, as well as the president of his school's Native American Student Club.
Past Winners:
Black Hawk Leadership Scholarship: Payton Rice, Katrina Garcia
Jim Thorpe Athletic Scholarship: Ethan Song Patton
Native American Heritage Month Game
Each season, the Chicago Blackhawks honor Native American Heritage Month with a celebration of Native American culture during a Blackhawks game in November.
In Nov. 2022, the team welcomed dancers and representatives from the Sac and Fox Nation, Black Hawk's ancestral tribe, as well as the Black Hawk Performance Company -- a group local to Chicago featuring Native American dancers from various nations and tribes. The Little Priest Singers also accompanied the dancers in the atrium and in the arena.
In the atrium pregame, Sac and Fox artist Tony Tiger performed a live demonstration of his print work and provided guests of the United Center to experience his work live. His paintings were also display in the atrium alongside Pueblo artist Jason Garcia and his pieces depicting a historical representation of Black Hawk and important moments in his life. Additionally, photos from the 57th Annual Sac and Fox Powwow in Stroud, Okla. were on display.

Sharing Native American Stories
Learn more Native American community members through their rich and diverse stories and lived experiences with the Blackhawks community.
Starla Thompson
Starla Thompson, of the Forest County Potawatomi and Santa Ynez Chumash Nations, carries the resiliency and perseverance of her ancestors forward through the performance of the Jingle Dress Dance, which comes from the Anishnaabe people, a group of indigenous people from the Great Lakes region of the United States and Canada.
JR Lonelodge 
JR Lonelodge a member of the Arapaho, proudly served in the United States Marine Corps. and comes from a family of U.S. Marines. JR has also danced as a Southern War Dancer since the age of two, earning multiple top accolades in his travels across the U.S. and Canada.
Jason Garcia
Jason Garcia's work documents the ever-changing cultural landscape of his home of Santa Clara Pueblo, New Mexico, and is influenced by Tewa Cultural ceremonies, traditions, and stories. Get an inside look at how Jason collaborated with Black Hawk to capture the essence of Black Hawk and his legacy.
We have always maintained an expectation that our fans uphold an atmosphere of respect, and after extensive and meaningful conversations with our Native American partners, we have formalized those expectations. Headdresses are prohibited for fans entering Blackhawks-sanctioned events or the United Center for home games. 
These symbols are sacred, traditionally reserved for leaders who have earned a place of great respect in their Tribe, and should not be generalized or used as a costume or for everyday wear.
Jacenia Desmoulin
Jacenia Desmoulin, a young Anishnaabe artist from Biigtigong Nishnaabeg, is the talented graphic artist who designed the Native-inspired art for this webpage. 
Among other elements, Jacenia says one of her inspirations for this design was the Four Sacred Medicines. Tobacco is the first plant that the Creator gave to Native people. It is the primary activator of all the plant spirits. Three other plants, sage, cedar, and sweetgrass, follow tobacco, and together they are referred to as the four sacred medicines, which are used in everyday life and ceremonies (Source).
Patrick Hunter
Ojibwe artist and graphic designer Patrick Hunter created the designs that accompany the Blackhawks' Land Acknowledgement inside the arena and featured on this webpage. 
What Patrick created was an appropriately spectacular extension of the land itself. His graceful, vivid florals and greenery resemble the designs used in historic Ojibwe bandolier bags and clothing, all made in the likeness of the foliage that comes from the land. His stylistic feathers represent the spiritual and traditional understanding that eagle feathers hold a significant place in the belief systems of each of the Nations who have stewarded these lands since time immemorial. (Source)