Fans can join the fight by downloading an "I Fight For" card, writing the name of someone they know who has been affected by cancer and sharing it via social media using the hashtag #hockeyfightscancer. At the game, fans will then be asked to stand and display their cards in support of those who are battling cancer.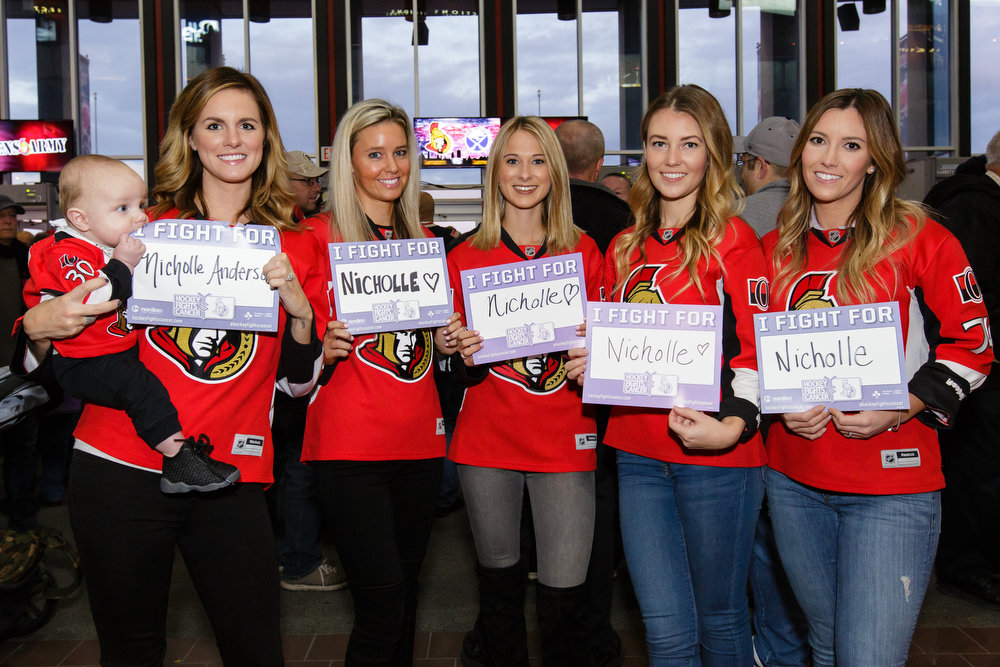 Senators wives and girlfriends will join volunteers from Nordion and The Ottawa Hospital when the doors open at 12:30 p.m. to distribute Hockey Fights Cancer "I Fight For" cards at Gate 1, behind Section 116 and 106 in addition to two areas on the 200-level behind Section 201 and on both sides of the stairs at the top of Gate 1.
To support the initiative fans can:
Purchase tickets to the game using this link -- A discount will be provided to fans and a portion of every sale will go towards cancer care and research.
Text message SENS to 45678 for a $10 donation and SENATORS to 45678 for a $5 contribution.
Download an "I Fight For" card and show us for whom you are fighting and share it via social media using the hashtag #hockeyfightscancer.
Purchase an autographed mystery puck at the game.
All proceeds from Hockey Fights Cancer donations will be directed to the Ottawa Senators Foundation in support of The Ottawa Hospital.
Hockey Fights Cancer, part of the National Hockey League's cancer awareness program, is a joint charitable initiative founded in December 1998 by the NHL and NHL Players' Association. It is supported by players, NHL member clubs, NHL alumni, the NHL Officials' Association, professional hockey athletic trainers and equipment managers, corporate marketing partners, broadcast partners and fans throughout North America. The goal of Hockey Fights Cancer is to raise money and awareness for national and local organizations involved in cancer care and research. To date, the Hockey Fights Cancer initiative has raised more than $18 million.