The Royal Half Report: Issue #1
by The Royal Half / Los Angeles Kings
Disclaimer - The contents of this page have not been reviewed or endorsed by the Los Angeles Kings Hockey Club. All opinions expressed by The Royal Half are solely (and most likely) his own and do not reflect the opinions of the Los Angeles Kings or their Hockey Operations staff, parent company, partners, or sponsors. His current whereabouts are not known to the Kings and he has no access to information beyond the access and privileges that go along with being a half-season ticket holder
Oh man, summer is over already? I feel like it was just a few weeks ago that everyone in the Los Angeles Kings Press Box was signing my NHL Yearbook.
"Wish I would have got to known you better!" - Dean Lombardi
Welcome to The Royal Half Report™... the newest feature to grace the pages of LA Kings dot com. Instead of the GAMEDAY PREVIEWS that we provided almost each game the last two seasons, this year we will take a less frequent (but just as funny... kinda) look at the LA Kings. For the Premiere Issue of TRHR... let's take a look at this past summer!
SUMMER RECAP 2014
GIF That Best Represents this Past Summer for the LA Kings
: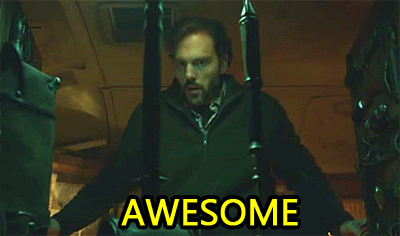 Nope.
Closer.
Not even close.
Nailed it.
While the rest of the NHL was worrying about silly things like the draft, free agent signings or even coaching vacancies this past summer... the members of the Stanley Cup Champion Los Angeles Kings literally did not give a hoot about any of it.
What a Hoot! Martin Jones on Grouse Mountain (North Vancouver, BC) #StanleyCup @HockeyHallFame @NHL @LAKingsPR pic.twitter.com/mtztkgo8Y2

— Philip Pritchard (@keeperofthecup) August 21, 2014
Literally. Not a hoot.
Martin Jones prepares for his RFA negotiations later this year.
For NHL fans, late September is a time filled with potential and hope as Training Camps open and the team that you'll be cheering for the whole season starts to take shape.
IsItOctoberYet? @NHL pic.twitter.com/pv2ZqjSL86

— I miss NHL (@NHLgirl1012) September 11, 2014
But for fans of the LA Kings, recently there has been a different attitude heading into Training Camp...
#IsItMidAprilYet?
I KNOW WHAT YOU DID LAST SUMMER!
Let's check in with last season's playoff opponents of the LA Kings and see how they spent their summers!
SAN JOSE SHARKS:
Thornton no longer #SJSharks captain; Torres to miss significant time to start season http://t.co/RXwY7RFYrE

— Kevin Kurz (@KKurzCSN) August 20, 2014
KEY ACQUISITIONS:
More heartbreak.
ANAHEIM DUCKS:
Bruce Boudreau on a golf course? Why, I never!
KEY ACQUISITIONS:
This summer, the Ducks acquired most of the 2010 NHL Season.
CHICAGO BLACKHAWKS:
8 MORE YEARS! 8... MORE... YEARS?!?! OH GOD NO WHY!?!?!?!
KEY ACQUISITIONS:
Brad Richards taking in his first #Blackhawks Convention: "I've been here since Wednesday, it's been a lot of fun." pic.twitter.com/QG5vCa7PUo

— Nina Falcone (@NinaFalcone) July 18, 2014
Wait... the Blackhawks addressed an actual need over the summer? Darn, that's no fun.
NEW YORK RANGERS:
Who cares, they play in the East.
SUMMER SECRETS... REVEALED!!!
This past summer we learned a dark, dark secret that will affect the LA Kings organization and their fans for a long time...
Clifford surprised me with more problems than I expected this morning pic.twitter.com/cXXfnsIKN8

— chelsea doughty (@rapperchel) September 16, 2014
Drew Doughty's sister named her car after Kyle Clifford.
@theroyalhalf boom pic.twitter.com/G8G98lEpe1

— Skinny (@SkinnyPPPhish) September 16, 2014
The other big revelation of the summer was that LA Kings forward, Jeff Carter, is now on Twitter!
Is this thing on ... "tap" "tap"

— Jeff Carter (@JeffCarter_77) August 12, 2014
"Tap, Tap" just means he was trying to score on the rebound.
Presenting the
Jeff Carter Follow Power
Rankings™
... a look at the top accounts that Jeff Carter follows on Twitter!
10. The Hermosa Beach Patch
How else are you going to follow what's happening in the South Bay?
9. HGTV
Score goals all day, relax watching House Hunters all night.
8. LA Kings Insider
I only put this here to show that Carter followed Jon Rosen before he followed @LAKings.
7. Howard Stern
BABA BOOEY! Just hope Jeff doesn't take the Cup on the Howard Stern show.
6. Millionaire Life
Tyler Toffoli and Tanner Pearson aren't allowed to follow this account... yet.
5. Athletes Cars
Wait... there are parody accounts of Athletes Cars?!?
4. Kevin Kurz
WUT?
You can follow him on Twitter, but just don't talk to him after the game.
3. Jerry Bruckheimer
Can't wait till JB casts Jeff Carter in the Days of Thunder remake.
2. Megan Carter
Happy Wife, Happy Life, am I right?
1. Yours Truly
Happy Blogger, Happy Life, am I right?
SUMMER LOVING, HAPPENED SO FAST...
This summer, we lost two of the LA Kings best character players as they've moved on to the next chapter in their lives. We say goodbye to Willie Mitchell,
the LA Kings resident food critic
, who has retired to pursue his dream.
Sorry, I thought moving to Florida meant you were retired. My bad.
And 3-time Stanley Cup Winner, Colin Fraser, has decided to go up against his biggest challenge yet...
...trying to not win a Stanley Cup.
SHOOTOUT: WHO WON THE SUMMER?
FIRST ROUND: Dean Lombardi
Hmm, let's see. Everyone but 2 players are returning from the 2013-14 Stanley Cup team. Marian Gaborik was re-signed for just under $5 million dollars a year for 7 years. And everybody wants to know exactly how Dean Lombardi does it. Yeah, I'd say he had a pretty good summer.
@LAKings GM Dean Lombardi receives some advice for the upcoming season. @NHL @HockeyHallFame #stanleycup pic.twitter.com/KNUlqcG8MK

— Philip Pritchard (@keeperofthecup) August 31, 2014
SECOND ROUND: Marian Gaborik/Jeff Carter Budding Bromance
Step aside, Mike Richards... Jeff Carter could have a new best friend in town!
"@Megan_Carter_: #CatalinaWineMixer @MGaborik12 @iversanns @jeffcarter_77 pic.twitter.com/ZQwEJhvjmb"

— Marian Gaborik (@MGaborik12) September 8, 2014
THIRD ROUND: Gustl
Breakfast of Champions Kopitar & gustl eat out of their #stanleycup @HockeyHallFame @NHL @lakingspr @AnzeKopitar pic.twitter.com/5mVxIlvCEU

— Philip Pritchard (@keeperofthecup) July 13, 2014
WINNER OF THE SUMMER
: #Gustl
That's 2-time Champion #Gustl to you.
The Royal Half has been a Los Angeles Kings fan since 1988 and a Half-Season Ticket Holder since 2002. He has seen the following goaltenders play in person for the Los Angeles Kings… Kelly Hrudey, Grant Fuhr, Byron Dafoe, Jamie Storr, Stephane Fiset, Felix Potvin, Cristobal Huet, Roman Cechmanek, Mathieu Garon, Adam Hauser, Jason LaBarbera, Barry Brust, Sean Burke, Dan Cloutier, Yutaka Fukufuji, Jean-Sebastien Aubin, Erik Ersberg, Jonathan Bernier, Jonathan Quick, Ben Scrivens, and Martin Jones. If you like the hockey equivalent of dirty jokes or enjoy humorous screen-grabs of NHL players and broadcasters with funny captions... man, you are going to like The Royal Half. You can follow The Royal Half on Twitter at @TheRoyalHalf
View More