My Stanley Cup Story: Alec Martinez
by Deborah Lew / Los Angeles Kings
*This is the tenth feature of a special multi-part LAKings.com content series featuring various members of the Kings organization as the Stanley Cup makes its way around the world throughout the summer.*
Every kid who has ever held a hockey stick inside their backyard, on a frozen pond, in the driveway, at the ice rink, or any combination thereof, has dreamed of scoring the Stanley Cup-clinching goal in overtime surrounded by a throng of ecstatic, on-rushing teammates and a raucous, roaring crowd.
For most people, it remains a dream.
Alec Martinez isn't most people. The LA Kings defenseman, after having already scored the series-winning goal in overtime of Game 7 in the Western Conference Final against the Chicago Blackhawks, found himself with the puck on his stick just split seconds before it hit the twine in double overtime of Game 5 of the Stanley Cup Final.
In one swift motion he collected Tyler Toffoli's rebound off the pad of New York Rangers' goalie, Henrik Lundqvist, and released the collective breath of everyone who had been following the Kings' dramatic march through the 2014 NHL post-season.
Euphoria ensued. Streamers rained. Flags waved. 'Jazz hands' were born.
Martinez was so isolated on the play that even after he tossed his own equipment in excitement, he didn't understand why it took so long for his teammates to reach him and begin their celebration.
"I remember thinking 'how is no one here yet?'" Martinez recalled.
Having accomplished one of the most exhilarating feats in sports by scoring a championship-winning point in sudden-death overtime, Martinez could have easily basked in the personal glory of such a powerful moment. But what may seem like a normal reaction to most others doesn't occur to anyone on this Kings team, Martinez included.
"At the end of the day, it didn't matter who scored the goal, because it was about something bigger than whoever was able to score it," insisted Martinez, who was also part of the Kings 2012 championship team. "At the end of the day, I don't really care who it was. We achieved the goal that we agreed upon before the year even started."
As a member of the Stanley Cup-winning team, Martinez got to spend some good quality time with the trophy, which was scheduled to begin on August 24. Martinez rented a 25-person house for family and friends on Lake Lewisville, which is about 40 minutes outside of Dallas, Texas. With a house full of eager guests, Martinez headed to the airport around 4 p.m. to retrieve his guest of honor as it arrived from British Columbia.
"It was actually kind of nerve-wracking because they couldn't find it," Martinez relayed. "We waited for it at the airport with the Cup guys and everything, it didn't come through the carousel on baggage claim, so we thought they could have lost it or it just didn't make the connection."
Following a bit of a run-around and a short delay, Lord Stanley was finally found and taken back to the house where 40 guests were awaiting its arrival. A caterer was brought in for dinner while people also enjoyed playing corn hole and a game of volleyball. After dinner, the group took the Cup out to a nearby bar.
"It was pretty fun, it was a Sunday night so there was virtually no one there, it was just us. It ended up being really cool," said the 27-year-old. "We basically had the whole place to ourselves."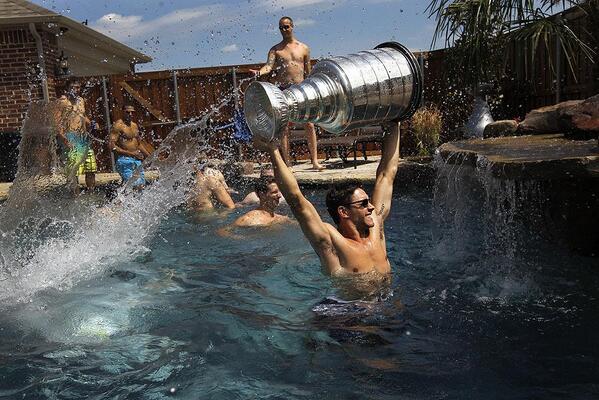 Monday morning started off with Martinez having Fruit Loops cereal from the Cup, followed by family and friends taking their photos with the silver chalice. Noontime brought about a Greek lunch of steak and chicken kabobs, which sufficiently prepared Martinez and his friends for a game of street hockey, in which the Stanley Cup was, of course, the ultimate prize.
The 'game' was a best-of-seven format, with each game being the first team to three goals, and in the seventh game, it was a 2-2 tie. Kings fans know how this one ends, right?
"I tried so hard to bring it full-circle, but I ended up losing," Martinez admitted with a laugh. "It was an awesome time and it was an opportunity for everyone to play a game and series for the Cup."
Everyone's reward for playing street hockey in 100-degree weather was a snow cone truck that Martinez had brought in to cool his guests down. Dinner that night was a Texas-style barbeque that included ribs, brisket and all the fixings, and by this time there were nearly 90 people at the house.
As the evening wore on, Martinez and his guests ate an ice cream sundae out of the Cup, drank champagne from the Cup, then sat around the Cup and a bonfire, telling stories.
"The coolest thing about that is sharing it with people that you care about," the Michigan native revealed. "I had my family there, and close friends, and a lot of people that played a big role in me being where I am today and allowing me to have the opportunity to play for the Stanley Cup, let alone win it – twice – it's pretty neat to have all those people around."
Even after all the celebrations, replays, interviews, and intimate conversations with friends and family, Martinez has admitted that scoring the Cup-winning goal hasn't really set in yet, and that he's been told he won't actually have time to reflect on it until his playing days are over. He did, however, concede the following:
"It was obviously a special moment – I'll never forget it."
Considering all the Kings fans who will forever have 'jazz hands' ingrained in their memories, he isn't the only one.
Join the conversation on Twitter with the NHL, LA Kings and the Hockey Hall of Fame for their summer with Stanley by using the hashtag #StanleyCup
NHL: @NHL
LA Kings: @LAKings
LA Kings PR: @LAKingsPR
Cup Keepers: @KeeperOfTheCup
Hockey Hall of Fame: @HockeyHallFame
Deborah Lew: @by_DeborahLew
For photos of the Kings' summer with Stanley, view the Hockey Hall of Fame's 'Stanley Cup Journal' CLICK HERE
View More