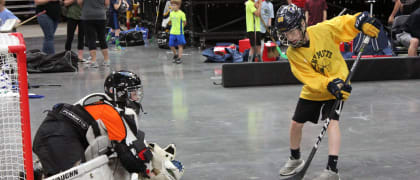 The St. Louis Blues are proud to announce the Street Blues initiative, a free ball hockey program aimed to get elementary and middle school-aged children interested in the game of hockey. This program offers area schools a PE class curriculum and after-school activity that is a fast-paced alternative to traditional PE class units.
School Benefits
Blues staff members and a Blues celebrity will visit your school to deliver your school's equipment and teach street hockey during an assembly.
Your school will receive a complete set of equipment for a full PE class.
The equipment includes two nets, four sets of goalie equipment (pads and sticks), 36 sticks, one case of balls and one curriculum guide.
PE teachers will be trained to provide accurate instruction to their PE class and after school participants.
Each school will receive contact information for a Blues staff member that will be able to provide any additional information and answer any questions that might arise.
Student Benefits
Each student will receive their own Street Blues playbook containing basic street hockey terminology, rules, and practice drills that they can do on their own.
The students will be exposed to one of the fastest growing sports in America.
School Requirements
Each school that enrolls must have at least 100 children in grades 2-8.
Schools must have ample space to play street hockey (i.e. gymnasium, parking lot, etc).
Each school must commit to having the street hockey program as a week-long unit in their PE classes over two weeks.
Participating Schools
Academy of the Sacred Heart
Andrews Academy
Arrowpoint Elementary
Assumption Mattese 
Bayless School District
Berkley Middle School
Bierbaum Elementary
Bowles Elementary
Bristol Elementary 
CA Henning Elementary
Carlyle District
Carriel Jr. High
Christ The King School
City Academy   
Delores Moye Elementary
Discovery Ridge Elementary 
Eureka Elementary
Evans Elementary
EverFi (Ritenour Middle)
Frontier Middle School
Green Pines Elementary 
Hancock Place Elementary
Hazelwood Central 
Hazelwood East High School
Holman Elementary
Hudson Elementary
ICD School
Immaculate Conception School
Independence Elementary
Kellison Elementary 
Ladue Middle School
LaSalle Springs Middle
Lakeview Elementary
Marie Schaefer Elementary McKinley CLA
Middle Parkway
Middle Uthoff Elementary
MRH Elementary
New Baden Elementary
North Glendale Elementary
North Kirkwood
Nipher Middle
Oakville Middle School
Old Bonhomme Elementary
Peine Ridge Elementary School
Pontiac Jr. High
Prairie View Elementary
Queen of All Saints 
Rockwood South
Rossman School
Sperreng Middle School
St. Peter Catholic Grade School
Unity Lutheran Christian Elementary
Valley Park District
Vogt Elementary
Walnut Grove Elementary
Webster Groves Computer School
Westchester Elementary
Wildwood Middle
William Holliday Elementary