3 Impressions: Pens 2, Devils 1 (OT)
by Staff Writer / Pittsburgh Penguins
Assistant coach Rick Tocchet gives his three impressions from the bench of the Penguins' 2-1 overtime win over New Jersey.
1. First of all, number one for me is sticking with our system. Even though we were down 1-0, we dominated the game. We didn't get outside our system. We stayed with it. And I think that was big. Even though it was 5-6 minutes in, we were very comfortable in our own skin. There was no panic. Guys were really positive. Standing behind the bench, it was really nice atmosphere for the coaches, to see your players stick with that.
2. The power play, it was a big goal. I thought even the second power play that we had, we had a lot of chances. So the one thing is we stuck with it. We didn't mismanage the puck. I thought they stayed with it.
3. The penalty kill, right off the bat, you very rarely see a two-minute 5-on-3. So that kept us in the game too.
Michelle Crechiolo gives her three takeaways from the press box.
1. Heading into the game, the Pens had lost six of their last seven on the road and hadn't won at Prudential Center since March 17, 2012. Overall, they had lost five straight in this building and were 1-8-1 in their last 10. I asked Sidney Crosby after the morning skate what would be the key to reversing that, and he said scoring first, "especially against these guys, who play a pretty tight-checking game and are really looking at winning a 1-0 game." So after the Pens went down by one in the third period, the odds were certainly against them to come back and win this game. But they did. To come from behind on the road against this particular team is a big character win for the Pens.
2. This was a game the Pens deserved to win with the way they played throughout the entire 60-plus minutes. I thought they skated with controlled intensity. New Jersey is known for being a patient team, and I thought the Pens were right there with them in that regard. They didn't panic with the puck. They were steady and calm, waiting for the right play and then executing it (for the most part). Overall, they moved the puck very well and I was especially impressed with the way they defended through the neutral zone and then regrouped. That's normally New Jersey's area of expertise, as they're famous for setting traps and clogging it up, but I thought the Pens were just as good there tonight. And Pittsburgh's stick work was fantastic. They kept forcing turnovers by poking the puck off Devils players' sticks, then would regain control and go the other way.
3. Overall, the Pens played a very sound defensive game. They held the Devils to just 14 shots while firing 43 of their own down at the other end. Per Bob Grove of the Penguins Radio Network, there are only three games in team history in which they allowed fewer: 11 vs. Phoenix in 1999, 13 at LA in 1969 and 13 at Phoenix in 1997.The forwards and D-men worked as a five-man unit to get the job done, and while Marc-Andre Fleury didn't see a lot of pucks, the majority of New Jersey's shots were quality. I thought Simon Despres was the star of the game for Pittsburgh. He was outstanding. He had to step into a bigger role next to Kris Letang with Christian Ehrhoff out, and excelled. Not only did he score the OT winner, he was so strong defending and made one incredible play where he saved what would have been a sure goal when he stickchecked Elias, who had possession and an open net with Fleury out, and took the puck off his blade. It was an incredibly difficult play, but Despres made it. His D partner was tremendous as well, as Letang has now assisted on each of the Pens' last seven goals.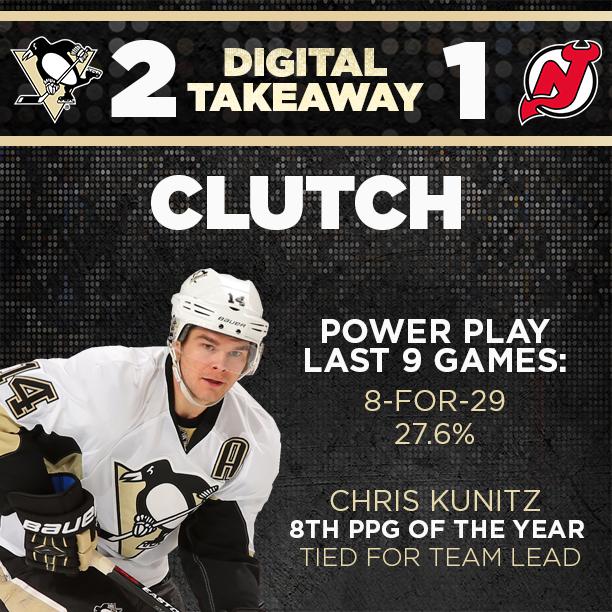 View More