The Lowdown: Panthers vs Canadiens
by "Hockey Pat" McGrath / Florida Panthers
THE LOWDOWN is a gameday preview produced by "Hockey Pat" McGrath, a lifelong Cats fan who previously wrote for the Florida Panthers themed blog "TheRatTrick". The contents of THE LOWDOWN and all opinions expressed therein are solely those of Hockey Pat and do not necessarily reflect the views of the Florida Panthers or Sunrise Sports & Entertainment LLC. Having said that, if you find yourself laughing or smiling as you read the LOWDOWN, feel free to thank us. We accept thank you notes, tweets and ticket purchases.
Montreal Canadiens vs. Florida Panthers
| | | |
| --- | --- | --- |
| | Canadiens | Panthers |
| Record | 42-26-7 | 27-39-8 |
| Points | 91 | 62 |
| Place | 2nd in Atlantic | 7th in Atlantic |
With the Montreal Canadiens in town, the Florida Panthers will look to end their three-game home stand on a high note. The Cats have split the first two games they played at BB&T Center this week, defeating the Senators 3-2 in the shootout on Tuesday before falling 3-0 to the Hurricanes on Thursday. Tonight will be the fourth and final matchup between the Cats and the Habs the season. The Panthers have won two of the three previous meetings against their division rivals in the first season of the expanded Atlantic Division.
Here is tonight's lowdown:
Not These Canadiens
These Canadiens
…Wait that's not right…
These Canadiens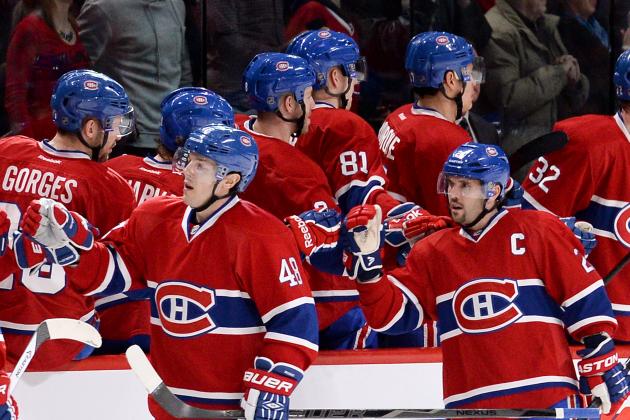 Canadiens Players to Watch
#76 P.K. Subban
Yes the 24-year-old defenseman leads his team in scoring with 52 points (10-42-52) but the divisive defender is really worth watching because you never know what you will get when Subban touches the ice. 2013's Norris Trophy Winner, Subban is always dangerous on the power play (4-19-23 with the man advantage this season), but you had also better keep your head up when Subban is on defense as he is always looking for a chance to land a highlight reel bone jarring hit.
#11 Brendan Gallagher
At 5'9'', Brendan Gallagher packs a lot of talent into a tiny (by NHL standards at least) frame. Like many undersized NHLers, Gallagher thrives on being a pest and ostensibly being everywhere on the ice at once. He has also been know to take on P.K. Subban in a home run derby from time to time:
Pick a Panther
(Selecting a Panthers' player to score in tonight's game)
Current streak: 0
A fun way to add some excitement to your Panthers' viewing experience is by picking one of the Panthers' goal scorers for every game. I will be picking players for the remainder of the season and if you want to play along, tweet your picks to @FlaPanthers, #PickaPanther. If you pick right, you might get a re-tweet (commitment is not really my thing)…
Pat's Pick: Scottie Upshall
The Panthers scoring leader was knocking on the door on Tuesday only to have that door slammed in his face by Carolina netminder Anton Khudobin. I mean check out this robbery below:
Upshall is going to have a bone to pick with goaltenders everywhere and that Carey Price better watch his back tonight.
An Eye on the Tournament
The first round of the NCAA Men's Hockey Championship got underway yesterday. Here is how some of Florida's prospects fared:
F Connor Brickley and the University of Vermont fell 5-2 to Union College.
F Rocco Grimaldi scored a hat-trick in University of North Dakota's 5-2 win over the University of Wisconsin and Panthers prospect D Ed Wittchow.
Today:
Boston College, led by Panthers defensemen Mike Matheson and Ian McCoshen, will take on the University of Denver and Panthers goaltenders Sam Brittain and Evan Cowley at 4:00 p.m.
Kyle Rau and the University of Minnesota will face Robert Morris at 5:30 p.m.
Check out our full coverage of the tournament here, and follow us @FlaPanthers for updates on your favorite collegiate Panthers.
Numbers on the Board
4: The Canadiens winning streak coming into tonight's game in South Florida.
4: The number of goals the Cats put up on the Canadiens in their 4-1 win over the Habs in the last meeting between these two teams in South Florida.
6: The number of wins the Panthers have against Montreal over the past three seasons. Since 11-12, Florida is 6-3-1 against their northerly brethren.
Enjoy the game tonight! Let's Go Panthers!
View More