TRH Gameday 8: Columbus Blue Jackets - Cheek to Cheek
by The Royal Half / Los Angeles Kings
Disclaimer -
The contents of this page have not been reviewed or endorsed by the Los Angeles Kings Hockey Club. All opinions expressed by The Royal Half are solely (and most likely) his own and do not reflect the opinions of the Los Angeles Kings or their Hockey Operations staff, parent company, partners, or sponsors. His current whereabouts are not known to the Kings and he has no access to information beyond the access and privileges that go along with being a half-season ticket holder.
Game #8
LA KINGS
2-3-2
6 pts
14th in Western Conference
vs
COLUMBUS BLUE JACKETS
3-5-1
7 pts
13th in Western Conference
4:00pm, Nationwide Arena
Columbus, OH
FSW
BEST PLAYER TO WEAR BOTH COLORS AND WIN THE STANLEY CUP:
Man, Jeff Carter wears the most ironic shirts.
BEST OPPOSITION BLOGS:
Sure, he may have one more goal than Drew Doughty and his team may have one more victory than the Los Angeles Kings... but after Columbus Blue Jackets defenseman Jack Johnson lost his
Controlled Chaos
defensive partner to a
nasty injury
... I'm starting to worry that Jack Johnson may be having some doubts about succeeding in Columbus. Now there have been
a lot of articles
written over the past few years
about how bad
a
NHL player
Jack Johnson
just might be
. So, in the
time-honored Royal Half Tradition™
, we've decided to take a look into the future in case the whole "#1 Defenseman for the Columbus Blue Jackets" thing doesn't work out. Presenting... 5 Alternative Uses for Jack Johnson!!!
Playing Biff Tannen In The Long-Rumored "Back To The Future 4"
Come on... don't say you haven't thought it. Jack Johnson looks strikingly like the character of Biff Tannen from the Back to the Future Trilogy.
And let's be honest...
Tom Wilson
hasn't been able to keep his
Biff Tannen-esque physique
. So Jack Johnson can keep working out and stay in game-shape... without ever needing to play the actual game! it's the best possible situation for fans of the Columbus Blue Jackets.
Boy, this video from 2008 doesn't feel dated at all, does it?
Chaos Theory Professor
I think we all know how
Chaos Theory works
. But since Jack Johnson is the beautiful mind behind the theory of
Controlled Chaos
... instead of actually causing chaos in front of his goaltender by failing to get a pass out of the defensive zone, Professor Jack Johnson could teach chaos in front of a classroom and fail a bunch of students.
Captain America
"Really... another movie parody, The Royal Half?!?" No... no... I'm not suggesting that Jack Johnson take on the role of Captain America
in any of The Avengers movies
... I literally mean that Jack Johnson should become the Captain of America. I mean, seriously... this dude
LOVES
America!
A Diamond Cutter
They say that diamond cutting is one of the most challenging things humankind can attempt to do. Because of the difficulty involved in changing a diamond from a rough stone into a polished gem, you need to have an
array of special tools
. If there is anyone who knows about being
a special kind of tool
... it's Jack Johnson! So when Jack Johnson finally decides to step away from the game of hockey... cutting diamonds with his cheekbones would be the perfect 2nd career! Have you seen those things in person???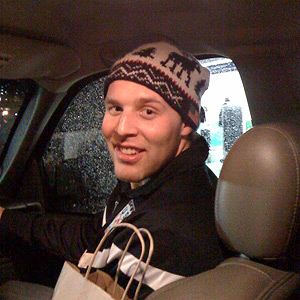 In Columbus, the only thing Jack Johnson's cheekbones can't cut is James Wisniewski's cap hit.
Minus Key on a Calculator
As most hockey statisticians will tell you... when you think of Jack Johnson... you think of "
minus.
" So instead of helping opposing players score even-strength goals... Jack Johnson could be helping you subtract your odds and evens.
But lets be serious here for a second... the most important Alternative Use for Jack Johnson is...
LA Kings Defenseman
THE ROYAL HALF GAMEDAY PREVIEW TWEET OF THE DAY
Well... if they can't imitate our re-building plan... they can at least imitate
our Twitter feed
.
The Royal Half has been a Los Angeles Kings fan since 1988 and a Half-Season Ticket Holder since 2002. He has seen the following goaltenders play in person for the Los Angeles Kings… Kelly Hrudey, Grant Fuhr, Byron Dafoe, Jamie Storr, Stephane Fiset, Felix Potvin, Cristobal Huet, Roman Cechmanek, Mathieu Garon, Adam Hauser, Jason LaBarbera, Barry Brust, Sean Burke, Dan Cloutier, Yutaka Fukufuji, Jean-Sebastien Aubin, Erik Ersberg, Jonathan Bernier and Jonathan Quick. If you like the hockey equivalent of dirty jokes or enjoy humorous screen-grabs of NHL players and broadcasters with funny captions... man, you are going to like The Royal Half. You can follow The Royal Half on Twitter at @TheRoyalHalf
View More