The Royal Half Preview: Kings vs. Coyotes
by The Royal Half / Los Angeles Kings
Disclaimer - The contents of this page have not been reviewed or endorsed by the Los Angeles Kings Hockey Club. All opinions expressed by The Royal Half are solely (and most likely) his own and do not reflect the opinions of the Los Angeles Kings or their Hockey Operations staff, parent company, partners, or sponsors. His current whereabouts are not known to the Kings and he has no access to information beyond the access and privileges that go along with being a half-season ticket holder
Game #28
LA KINGS
15-10-2
32 pts
6th in Western Conference
vs
PHOENIX COYOTES
13-11-4
30 pts
9th in Western Conference
7:30pm, Staples Center
Los Angeles, CA
FSW
BEST TEAM THAT IS STILL FOR SALE:
LEE STEMPNIAK VS THE LA KINGS SCORING JEFF CARTER'S GOALS UPDATE:
Jeff Carter hasn't scored in 4 games and
Lee Stempniak has 4 points in his last 2!
LA KINGS PACTRAK:
The LA Kings have earned 2 of a possible 12 points versus 6 straight Pacific Division opponents.
I'm pretty sure these jerseys were the last reason why ice was invented.
The LA Kings Purple and Black jersey made their debut during the 1998-99 NHL Season, the last season that the LA Kings played at the Great Western Forum. For the prior 10 seasons, the LA Kings had been wearing what's become known as the "
Gretzky-Era Silver and Back
." But with Wayne Gretzky now 3 seasons removed from being a Los Angeles King... the organization needed a rebranding... and that rebranding consisted of what basically was an awful Country Club crest logo.
Because sunglasses on a lion just makes sense.
What the team didn't want was trendy, so "we dug into our past," according to Cimperman, and came up with purple, the team's original jersey color. They also took the crown logo and retrofitted it for a new look.
Lest you think this was all done capriciously--no way. This is a multimillion-dollar organization, so absolutely nada was left to chance. That means 20 months of development, a design team, and lots of focus groups and surveys. So what didn't the fans want? According to Cimperman, the cutesy and cartoonish logos adopted by some other teams, which shall remain nameless.
Also influencing this change was the fact that in recent years, black and silver had become associated with gangs, and some schools have banned students from wearing those colors.
I think this approach to a creating a new jersey worked very well. Gang activity in Los Angeles went down nearly 75% after the LA Kings changed jerseys.
But more important than keeping the peace between the Bloods and the Crips... the LA Kings were looking to rebuild a struggling franchise. Again, from the
LA Times
...
This is really a new era for this organization when you look at where we're going with the new Staples Center (the team's home beginning in 1999) and a newfound commitment to winning the Stanley Cup," said John Cimperman, the Kings' vice president of marketing and communications.
Trust me, this '98-99 team was barely committed to winning a faceoff, let alone a Stanley Cup.
I'm still trying to confirm the rumor... but allegedly the LA Kings were so excited about this new era for the team that they tried to acquire the rights to a popular song in order to promote it.
"Dearly beloved... we are gathered here today... to get through this thing called "Crawford."
Russ Courtnall, the Kings' right wing, gave the new look a thumbs-up.
"I like 'em a lot," he said. "We were ready for a change, and we were hoping the new jerseys would be nice. We were keeping our fingers crossed that they'd be good ones."
The Kings unveiled their new uniforms at a celebrity fashion show Saturday, which also featured related merchandise (caps, golf shirts, sweaters, leather jackets and T-shirts, retailing for $12 to $1,000, with shirts in the $30 range).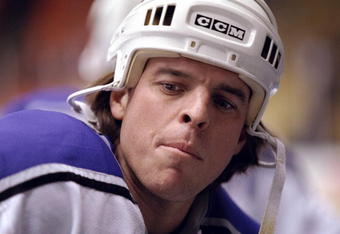 The funniest line in that quote above is "Russ Courtnall, the Kings' right wing."
Also, I hope the 1998 LA Kings Fashion Show went something like this.
I like to call them... "the lean years."
Eventually in 2002, the LA Kings swapped the alternate and regular jerseys, creating the Purple and Black Crown Jersey that is being retired by the franchise over the next two games.
Or as I like to call them... "the Frolov years."
I, for one, am not sad to see the Purple and Black jersey go. But even though the Los Angeles Kings are retiring them... I'll never be able to get this out of my mind:
Or this:
Or this:
Or this:
Or this: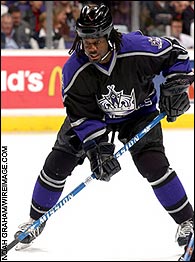 For a more in-depth look at the worst players to wear the LA Kings Purple and Black jerseys... check out the extensive
Royal Half Archive
covering
this very topic
. And for those of you attending the Purple and Black Funeral at the next two games against the Phoenix Coyotes... just be glad your favorite hockey franchise never wore anything like this...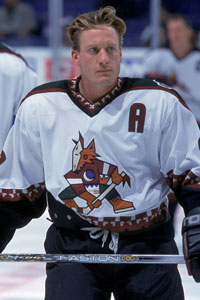 The Royal Half has been a Los Angeles Kings fan since 1988 and a Half-Season Ticket Holder since 2002. He has seen the following goaltenders play in person for the Los Angeles Kings… Kelly Hrudey, Grant Fuhr, Byron Dafoe, Jamie Storr, Stephane Fiset, Felix Potvin, Cristobal Huet, Roman Cechmanek, Mathieu Garon, Adam Hauser, Jason LaBarbera, Barry Brust, Sean Burke, Dan Cloutier, Yutaka Fukufuji, Jean-Sebastien Aubin, Erik Ersberg, Jonathan Bernier and Jonathan Quick. If you like the hockey equivalent of dirty jokes or enjoy humorous screen-grabs of NHL players and broadcasters with funny captions... man, you are going to like The Royal Half. You can follow The Royal Half on Twitter at @TheRoyalHalf
View More