GAME BLOG: Blue Jackets vs. Coyotes
by Rob Mixer / Columbus Blue Jackets
---
10:24 P.M. -- 39 saves and 2nd shutout in 8 days! Well done, Bob. Jackets win 1-0 (2-0 SO).
---
9:31 P.M. -- Overtime!
---
9:04 P.M. -- BOBROVSKY putting on a repeat performance from Thursday's game vs. CHI. In case you forgot:
---
8:46 P.M. -- @MarkWyant talks with Nick Foligno after the second period.
---

8:35 P.M. -- SECOND PERIOD ANALYSIS: Still a 0-0 game here at Nationwide Arena, but things started to open up a little bit there in the middle frame. The Blue Jackets had some really good chances in the second half of the period and nearly got a couple of goals, but Smith has played very well in net for the Coyotes. At the other end, Bobrovsky's highlight so far was a breakaway save on Rob Klinkhammer, who was sent in home-free by a lead pass from Smith that crossed three lines. What to watch for in the third period: more attack from the Blue Jackets, who've not won as many puck battles as they did in recent games. I expect them to raise their collective level another notch in the final 20.
---
8:34 P.M. --
First hand view of the Tunnel of Pride as the Jackets head out on the ice for tonight's game! #CBJ http://www.tout.com/m/js2on8?ref=twgxgqrq

— BlueJacketsNHL (@BlueJacketsNHL) March 16, 2013
---
8:29 P.M. -- So the CBJ Harlem Shake got a Dancing Kevin facelift tonight. Enjoy the original.
---
8:25 P.M. -- BOBROVSKY is on the case tonight
YOU'RE IN LINE FOR A PROMOTION, BOBROVSKY!!!! #CBJ — Daniel P. (@MaskedMallard4) March 16, 2013
---
8:15 P.M. -- LIVE NOW! Photos from Stinger's pre-game skate, Hockey 'n' Heels and green jerseys!
#CBJ INSTAGRAM PICS
Want to see yourself featured in our GAME DAY BLOG? Tag your fan pics during any game day with "#CBJ," and we'll find you!
---
7:54 P.M. -- @MarkWyant talks with Jared Boll after one period of play against Phoenix.
---

7:40 P.M. -- FIRST PERIOD ANALYSIS: A pretty even first period here at Nationwide Arena, evidenced by the shot count (12-12) and the scoring chances have been fairly equal, as well. Mike Smith had to make a few tougher saves than Sergei Bobrovsky in the first period, including a tester right off the hop on a mini-break by Artem Anisimov. One thing to watch for as this game unfolds: can the Blue Jackets execute the long stretch passes to get the puck deep in the Coyotes end? It's a key against this team - one that likes to own the neutral zone - and if Columbus can penetrate and get something going through the middle, they may be able to open things up for some opportunities.
---
7:38 P.M. -- LIVE NOW! Check out our game action photo gallery.
---
7:23 P.M. -- Goalies Mike Smith and Sergei BOBROVSKY looking sharp in net early. 10 minutes in, score 0-0.
---
7:10 P.M. -- The puck has dropped at Nationwide Arena as the Blue Jackets look to extend their franchise-long point streak to 10 games.
---
7:00 P.M. -- CBJ Season Ticket Holders are lining up to watch players take the ice tonight in the Tunnel of Pride.
---
6:54 P.M. -- Glad you are joining the battle with us!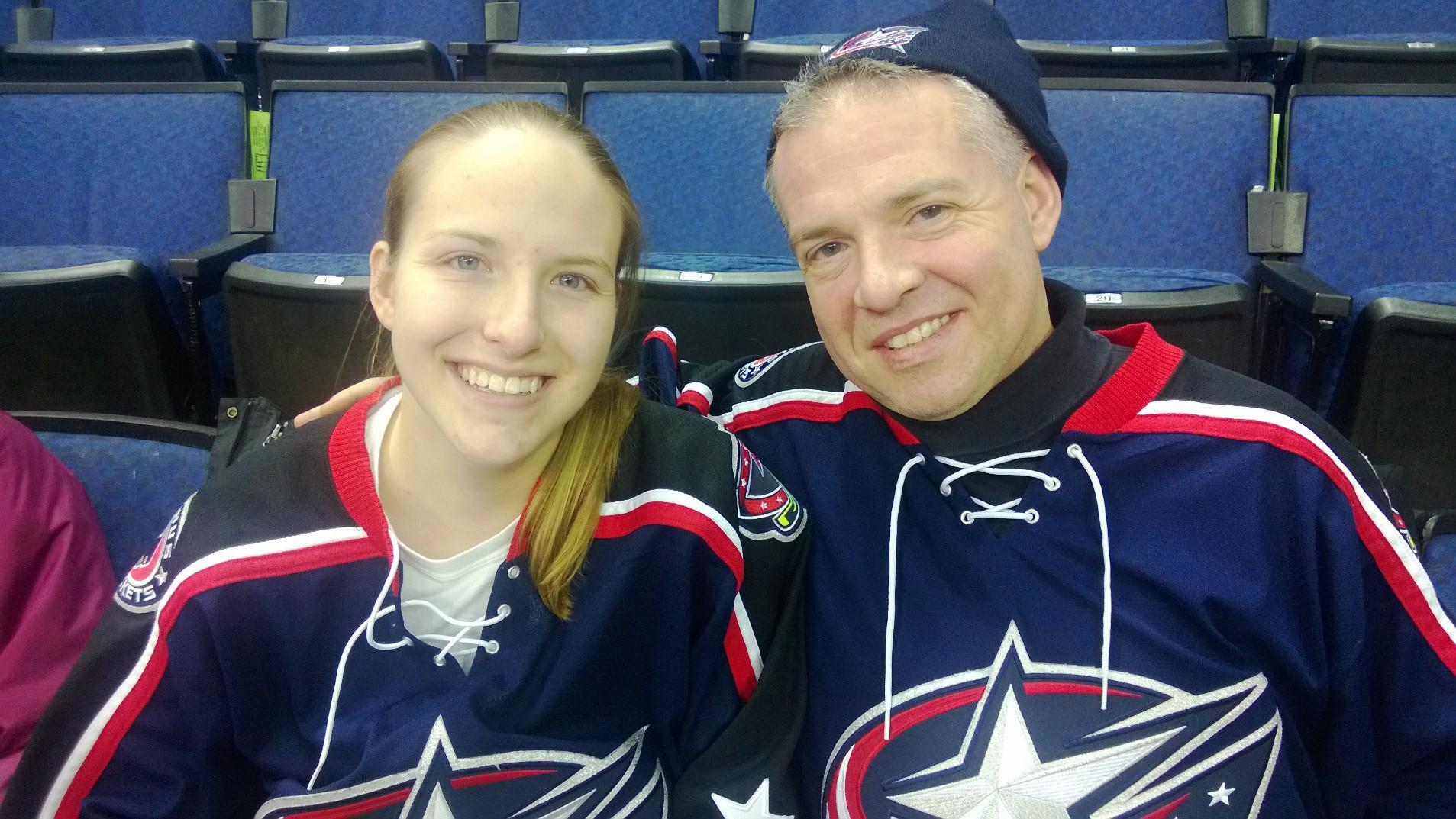 ---
6:50 P.M.
-- It's the Wiz's turn at the mike for Hockey 'n' Heels! #CBJHnH - Uh, Wiz, are you wearin' green?
Our very own @jameswisniewski speaking at Hockey n' Heels presented by Meyers Jewelers! #CBJ #CBJHnH pic.twitter.com/qP6srooqUg #CBJ

— NHL Blue Jackets (@BlueJacketsNHL) March 16, 2013
---
6:45 P.M. -- There will be no pinching CBJ players during warm-ups. It's Green Jersey night!
#CBJ on the ice in St. Party's green warmups. @DKM_Hockey podcasting tonight from the #CBJSocial suite. Go Jackets! pic.twitter.com/4fKMVqPdoo

— Joe Reader (@osujoe) March 16, 2013
---
6:35 P.M. -- Todd Richards earlier today on the play of his team:
"One thing the guys in the room can be proud of is the opposition saying how hard we work and compete and play."
---
6:35 P.M. -- Check out our pre-game photo gallery. Matt, look up!
---
6:20 P.M.
-- There IS something magical about a 9-game point streak!
#CBJ ♫ Everything's Magic - Final Album Version – Angels & Airwaves http://spoti.fi/Njl1LX #Spotify

— Nick Johnson (@CBJ_DJ) March 16, 2013
---
6:10 P.M.
-- Hockey 'n' Heels night tonight!
Assistant coach Dan Hinote is talking with the group now at Hockey n Heels! #CBJ http://www.tout.com/m/d266l5?ref=twi0y3by #CBJ

— NHL Blue Jackets (@BlueJacketsNHL) March 16, 2013
Hinote - the way the #CBJ are playing now, there will be 4 or 5 future rivalries.

— zinzwCBJ (@zinzwCBJ) March 16, 2013

2:05 P.M. -- Head coach Todd Richards spoke with the media before tonight's game. Watch his comments below:
---
1:50 P.M.-- Check out our player interviews on Jackets TV:
---
1:20 P.M. -- Some of the shots we captured at the #CBJ morning skate...
Dubi taking a breather between drills.
Coach Todd Richards looks on during today's skate.

VIEW THE COMPLETE PHOTO GALLERY HERE
---
1:00 P.M. -- #CBJSocial Contest! We have a pair of tickets to tonight's game ready to be won -- and here's what you have to do:


Former Blue Jackets defenseman Rostislav Klesla returns to Columbus tonight, but as a member of the Coyotes. Against which team did "Rusty" score his first career NHL goal? Tweet us @BlueJacketsNHL with YOUR answer for a chance to win!


---
12:25 P.M. -- REALIGNMENT:
The NHL introduced a new realignment plan for the league this week, and starting next season, the Blue Jackets are headed to the Eastern Conference! Read all about it with
Rob's column on moving into a new neighborhood
and check out this map detailing the four new divisions:
---
12:15 P.M. -- It's not too late to get your Dispatch Family Value Pack for tonight's game! The first 5,000 kids aged 12 & under get a commemorative RJ Umberger puck.

Take advantage of this special offer by clicking here!
---
11:30 A.M. --
Also, a big hello and welcome to the Blue Jackets season ticket holders who joined us for this morning's skate!
---
11:15 A.M. --
Blue Jackets coach Todd Richards just provided some updates on tonight's lineup. Here they are...
- Adrian Aucoin will not play tonight, as Richards said he's been battling through some injuries and the team needs to maintain his energy. John Moore and Nikita Nikitin are back in the lineup.
- Sean Collins, with the team on emergency recall, may get into the lineup this evening if one of the Jackets' forwards (possibly RJ Umberger) is unable to play. We'll know more on that situation closer to game time.
---
11:00 A.M. --
Bobrovsky is the confirmed starter for Columbus. Mike Smith will start in net for the Coyotes.
---
10:10 A.M. -- BLUE JACKETS LINEUP:
With the CBJ defense pairings in flux until we officially know Nikita Nikitin's status, we'll go with the forward lines being used for tonight's game:
Umberger - Johansen - Foligno
Calvert - Dubinsky - Atkinson
Prospal - Brassard - Letestu
Gillies - Anisimov - Boll
---
10:00 A.M. -- BOBROVSKY:
Blue Jackets goaltender Sergei Bobrovsky will make his sixth straight start tonight when the Jackets meet the Coyotes. In his last 10 appearances, Bobrovsky is 6-1-3 with a 1.48 goals against average and a .950 save percentage.
---
9:30 A.M. -- MAKE IT 10:
Should be a fun day at the rink, as the Blue Jackets are getting set to face the Phoenix Coyotes in the third game of the three-game season series tonight at Nationwide Arena. The Coyotes are in the middle of a four-game road trip and opened the trip with a 3-0 loss in St. Louis a few nights ago.
The Blue Jackets, meanwhile, are riding a franchise-best nine game points streak entering tonight and are aiming to get back in the win column after consecutive shootout losses to Vancouver and Chicago.
In case you missed it yesterday, John Moore has been activated off injured reserve and will make his return to the lineup tonight. He's been out since March 1 when he was injured in the morning skate at United Center. Cody Goloubef heads back to Springfield to make room for Moore.
Also, Sean Collins is here on emergency recall from the Falcons in case of the Blue Jackets' forwards is unable to play tonight. I suspect we'll get more details from coach Todd Richards following the morning skate, which begins in just a few minutes.
Stay tuned to the Game Day blog for all the latest -- you won't want to miss the photos, updates, lineups & ticket giveaways we'll have throughout the day!
View More